You'll want to grab a pen and thick pad of paper for this information-packed interview with Dr. Mark Goulston. He reveals several intriguing ways to differentiate yourself and stand out from the crowd. Mark is a prolific content producer. He's the author of the best-selling books Just Listen and Talking to Crazy; the host of two podcasts, "My Wakeup Call" and "Stay Alive"; and a syndicated columnist.
You'll discover:
How to be compelling instead of convincing with prospective clients
The 4-part formula Steve Jobs used in presentations to grab and keep the audience's attention
What to say and ask to quickly establish trust when you're with a potential client
How to use "1116" to eliminate any possible regrets after they buy from you
Get this free PDF.
Give it to the leaders you work with!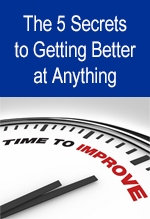 Mark's books
Podcasts
Website